Latest Products
This category don't have any products
Contact Enquiry
For any enquiry, contact:

: This email address is being protected from spambots. You need JavaScript enabled to view it.This email address is being protected from spambots. You need JavaScript enabled to view it.

: + 603 - 89412300

: + 603 - 89415300
: ORNET Sdn Bhd

SILVER-Nova Spectrometer
The SILVER-Nova is the most well rounded spectrometer choice allowing research grade results for numerous spectroscopic applications over the 190-1110nm wavelength range. The spectrograph employs composite grating technology to deliver high efficiency in both the UV & NIR spectral extremes. The UV enhanced CCD detector with integrated TE cooler, gain enhancements, and optical lens assemblies allow for unparalleled sensitivity, with over 65% increased signal to noise at long exposures. Advancements in SILVER-Nova optical design deliver 1nm resolution with a 25um slit. Additionally, the metal enclosure is ruggedized and compact to allow for portable, process, or laboratory environments.
The portable spectrometer is packaged in a small rugged metal enclosure for use with single strand fiber optic input cable. The electronics interface can be attached directly to a computers high speed USB-2. The units are vibration tolerant and are exceptionally robust with no internal adjustments or moving parts.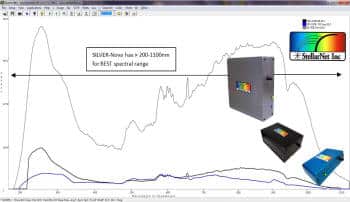 SILVER-Nova Wide Spectral Range
Comparison of SL5 Deuterium Tungsten Halogen Bulb with SILVER-Nova, BLACK-Comet-CXR-SR and BLUE-Wave-UVNb spectrometers showing SILVER-Nova wide wavelength range >200-1100nm.
Copyright MAXXmarketing Webdesigner GmbH