Latest Products
This category don't have any products
Contact Enquiry
For any enquiry, contact:

: This email address is being protected from spambots. You need JavaScript enabled to view it.This email address is being protected from spambots. You need JavaScript enabled to view it.

: + 603 - 89412300

: + 603 - 89415300
: ORNET Sdn Bhd

BLUE-Wave Spectrometers
Range 200-1150nm

The StellarNet BLUE-Wave miniature spectrometers are fiber optically coupled instruments with a wide selection of models for measurements in 200-1150nm wavelength ranges. Each unit contains a USB interface with a snap shot memory to provide instantaneous spectral image from the highly sensitive CCD with 2048. Various models provide a choice of grating range and slit resolutions. New and improved electronic
s with a high speed 16-bit digitizer allows for fast data acquisition and a signal to noise of 1000:1! Up to 8 units can be daisy chained together and are able to run simultaneously. Additionally the new BLUE-Wave miniature spectrometers can be powered directly from your PC USB-2 port. A single strand fiber optic cable or probe assembly delivers input via standard SMA 905 fiber optic connector with a choice of cable lengths. The spectrograph optics are exceptionally robust in a vibration tolerant modular design, with no moving parts.
The detachable spectrograph assembly and control electronics are protected inside a rugged metal enclosure, suitable for portable, process, and labapplications. Several units may be daisy-chained using a standard USB hub allowing simple configurations for dual and multi-beam applications in chemistry, spectroradiometry, and PORTA-LIBS.
Additional BLUE-Wave measurement applications include emission wavelength monitoring /characterization of tunable lasers or LED's and other sources such as elemental emissions from plasma & Laser Induced Breakdown Spectroscopy. Also Bragg grating technology enables optical sensing of many parameters including temperature and pressure. Thin film thickness measurements can be made using sample specular reflectance. The small size and weight makes the BLUE-Wavecompact spectrometers just perfect for portable and OEM applications.
BLUE-Wave Sample Spectra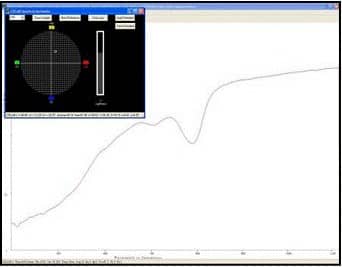 BLUE-Wave-VIS color reflectance spectrum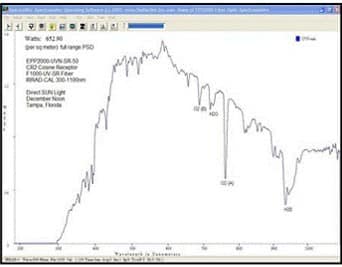 BLUE-Wave-UVN spectrum of sunlight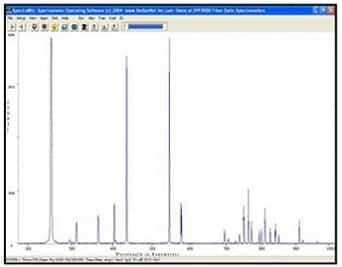 BLUE-Wave-UVN spectra of mercury argon gas emission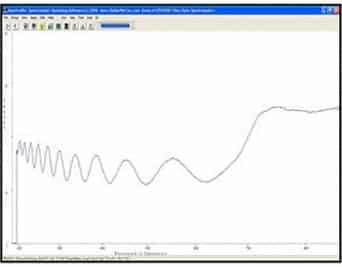 BLUE-Wave-VIS thin film filter transmission
Copyright MAXXmarketing Webdesigner GmbH