Latest Products
This category don't have any products
Contact Enquiry
For any enquiry, contact:

: This email address is being protected from spambots. You need JavaScript enabled to view it.This email address is being protected from spambots. You need JavaScript enabled to view it.

: + 603 - 89412300

: + 603 - 89415300
: ORNET Sdn Bhd

BLACK-Comet Spectrometer
Range 190-900nm

StellarNet's miniature fiber optic spectrometers with concave gratings deliver high performance for spectroscopy applications in the UV-VIS wavelength ranges covering 190-850nm (model C), or optionally 280-900nm (model CXR). The instruments are exceptionally robust with no moving parts, and are packaged in small rugged metal enclosures (2.75 x4 x6 inch) for portable spectroradiometry and lab or process spectroscopy measurements. The BLACK-Comet UV-VIS spectrometers utilize a 40mm diameter concave grating with aberration correction to provide superb spectral imaging. This significantly improves spectral shapes by reducing comma and astigmatism found in plane grating spectrograph designs. The spectrograph architecture does not utilize mirrors, and therefore provides the lowest possible stray light in the UV with additional assistance from the holographic line grating. The concave grating produces a flat field on the CCD detector creating uniform resolution over the entire range.
One of the main advantages of the BLACK-Comet is its ability to drastically reduce straylight levels, 0.02% at 435 nm and 0.2% at 200 nm, the lowest values of any field spectrometer. By design, the holographic grating has a smoother surface than the normal ruled gratings used in competing spectrometer models. Surface roughness is the primary source of grating generated stray light and thus by employing superior grating technology, StellarNet's Concave Grating Spectrometers are able to drastically reduce the effect. Additionally, grating scatter in the standard Czerny Turner design is collected and focused by the focusing mirror toward the exit port, this does not occur with the BLACK-Comet. When additional optical components like collimating and focusing mirrors are used in instrument design, it is more likely that light may be re–diffracted and scattered. Similarly, due to the spectrometers ability to reduce light scatter, especially high power UV light, the Concave Grating spectrometer provides two to three times enhanced UV sensitivity as compared to plane grating/Czerny Turner optical configurations.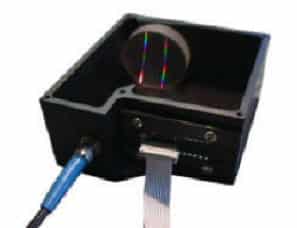 BLACK-Comet Optics- The concave holographic grating is aberration corrected and has no mirrors to minimize stray light with superb imaging projecting a flat field on the detector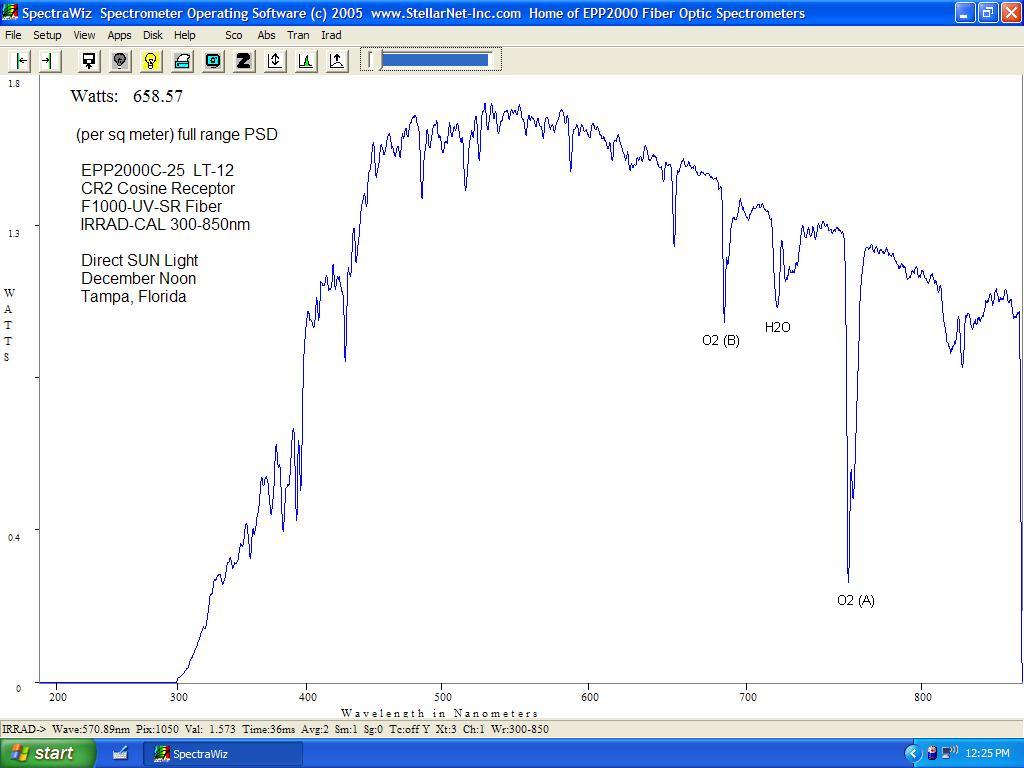 BLACK-Comet-SR in DSR-CSR-512 system measuring solar irradiance. The dual blaze concave grating allows for superb spectral imaging from 220-1100nm.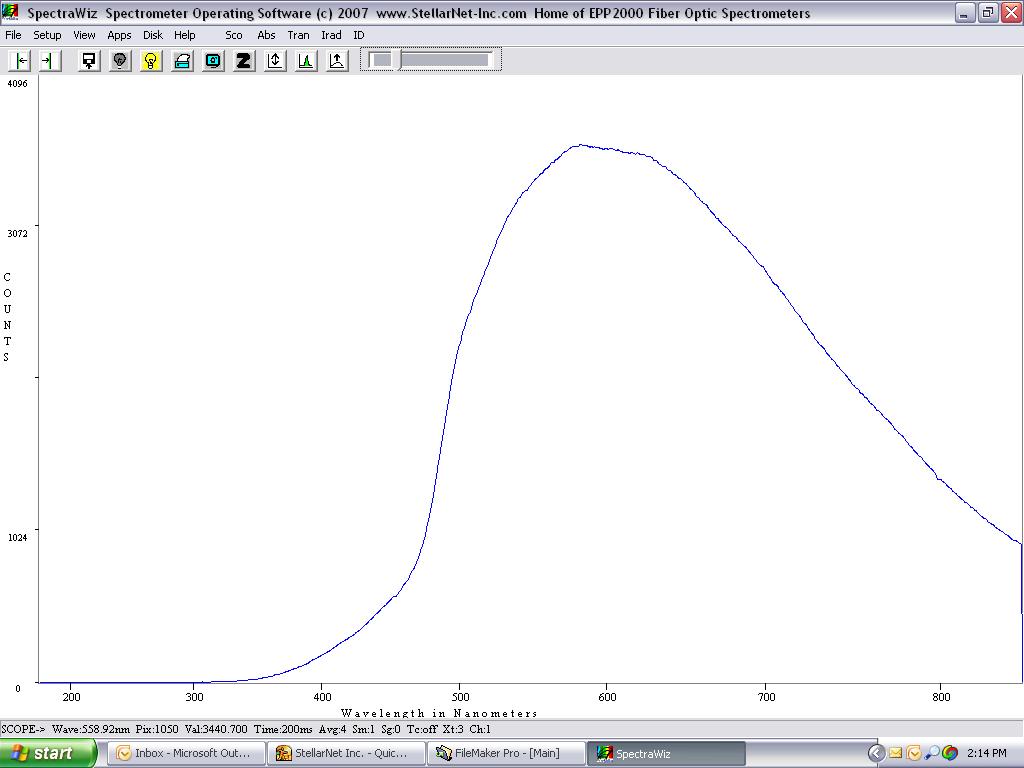 BLACK-Comet Sensitivity
Spectral sensitivity is one of the most important factors in choosing the proper miniature spectrometer. The concave grating optical design allows for high sensitivity and a smooth spectral distribution over the wavelength range as shown in the above spectrum of a Tungsten Halogen lamp.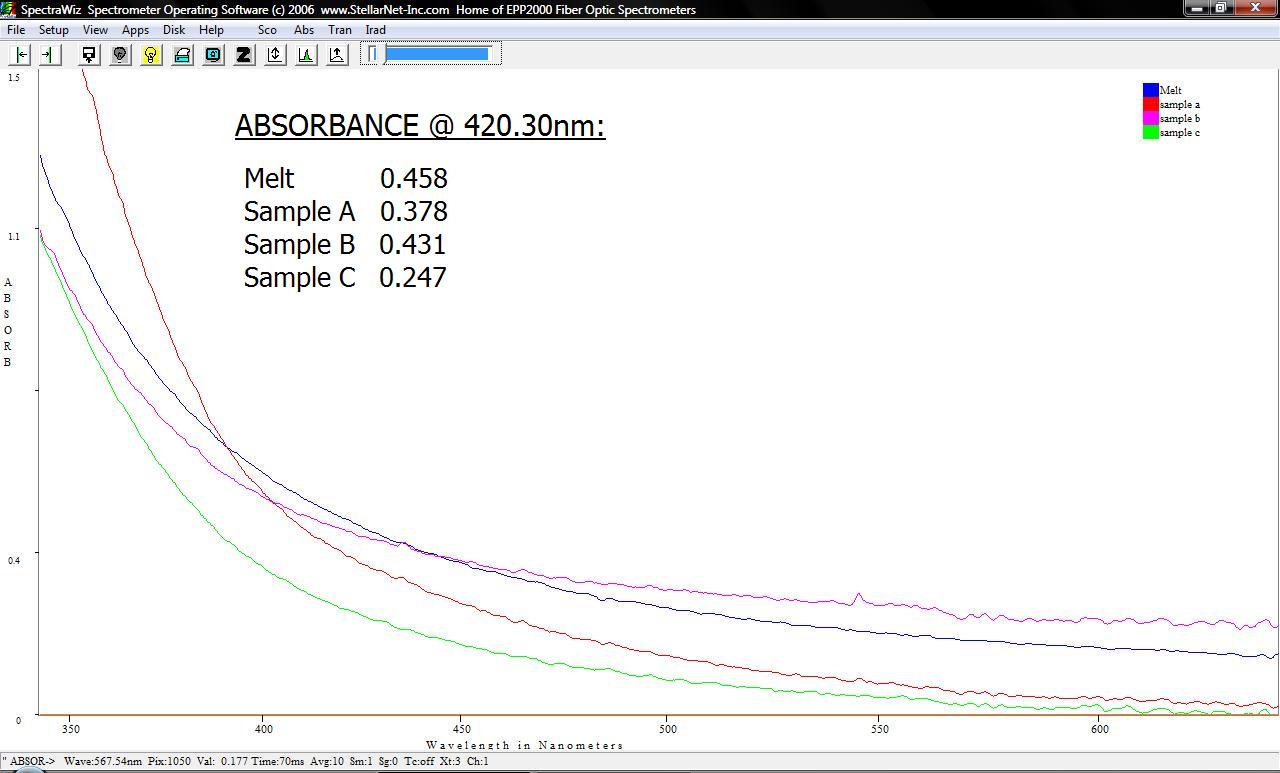 StellarNet's Low Cost UV-VIS Spectrometer system is composed of the BLACK-Comet research grade concave grating spectrometer, a SL5 high stability light source with integrated cuvette holder, and an optical coupling fiber. Above is the absorbance spectrum of various sugars.
Optical Metrology and Colorimetry
BLACK-Comet UV-VIS spectrometer model CXR-25 (-25 denotes slit size) measuring the transmission of a blue plastic film using a SL1 tungsten halogen lamp, TXF-4 transmission fixture, and two F600-VIS-NIR fiber optic cables and providing colorimetric data in CIELAB color space. Go to the colorimetry page.
Copyright MAXXmarketing Webdesigner GmbH